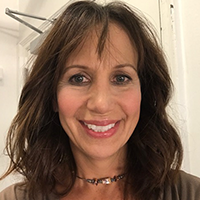 Rikki Groeger-Gracia
Talent of the Quarter - Q2, 2020
Last quarter the TOTQ celebration was the first to be done remotely, but this quarter, it will be the first where our talent were working remotely for either all or the majority of the time.  Even with all of that going on, we have wonderful nominations highlighting how our talent have helped our clients be more efficient, quicker, profitable, successful, etc.!
We are happy to announce our winner is Rikki Groeger-Gracia!
She made major contributions to their analysis team that they couldn't do with the other two employees that they have in-house.
I would go so far to say that she has shown tremendous management/leadership capability. I can see her being a leader of the analytics team if she comes on full time.
She took to everything so quickly that within months she was taking on more responsibility than her manager ever thought she could. Even with everything going on in the world, she has kept up her productivity and has not missed a beat. Because she is able to gather the key analytics and help people understand that data, it has allowed our client to make quicker decisions and ultimately save the company money.